Real hand Message: This one of the best Scalp and Body Massaging gadgets. You will feel like a human hand simulation massage. Massage Your Head, back, and shoulders like a real person. Flexible massage nails with patented curved design only fit the shape of your head
Deep Relaxed: Head massager with 84 massage nodes and 3D deep-kneading design help you release stress, relieving pains for your back, neck, shoulder, waist, tights, calves, foot, legs, and arms. Liking a physical therapist to let your body getting relaxed.
Cordless & Portable: One Button Operation to control power on/off (long press) and switch massage modes between clockwise & anti-clockwise rotation and high & low-speed rotation (short press). Get a full charge one time and you will enjoy a two-hour massage anywhere without annoying wire, Small size is convenient to carry when traveling as well as using in the office and at home.
IPX7 Waterproof: Dry and wet dual purpose, you could also enjoy head massage and body massage after a shower (please don't soak the massager in water). The massage nodes can be removed for washing.
Muti-function: It is mainly designed as a head massager and head-scratcher, but it also can be used as a body massager for neck massage, shoulder massage, and back massage. It is also a great massager for pets, great for soothing your pets, cleaning up the floating hair, and combing the hair to prevent knotting.
Package Includes:
1 x Scalp massager
1 x USB charger
1 x English user manual
Features:
This scalp massager can help us to massage your scalp and make you relax. prevent hair loss and promote blood circulation in the head. IPX7 waterproof and fall resistant, detachable massage heads, easy to clean. USB charge to make the use more convenient.
Scalp Massager (Care for Scalp Health)
Relieve headaches, prevent hair loss.
6 Performance Description
1. 6 massage manipulation
2. Ergonomic handheld design
3. Removable and washable silicone head
4. Dry & wet dual purpose
5. IPX 7 waterproof
6. USB Charging design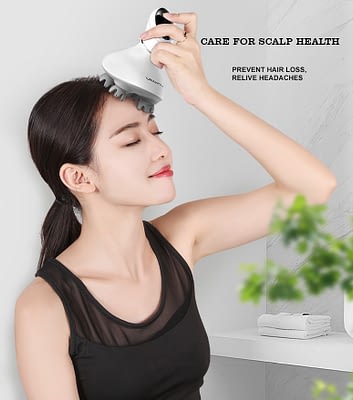 Head Health is the Vane of the Body
These cases will make you feel headache and you need us.
1. Work stress (Dizziness and headache)
2. High stress (Memory in decline)
3. Gray hair (Gradual baldness)
Scalp "Masseur"
Traditional Chinese medicine massage
Get rid of headaches and hair loss.
Simulation Head Kneading Touch Design
21*4=84 independent point touch the bottom, imitating 6 massage techniques
open fit push pull knead grab
Four Modes (Find the right massage for your scalp)
Forward gently massage (weak)
Forward fast massage (strong)
Vibrating gently kneading (weak)
High-frequency vibrating kneading (strong)
IPX 7 Waterproof Standard
Dry and wet dual-use
Dry:
Massage the scalp, relieve fatigue
Wet:
Clean and massage the scalp to strengthen the hair roots.
MUSIC Motor Drive
Mute and low noise design < 50db
Solid (5 level anti-fall)
Hundreds of drop test for better quality and user experience
Lithium Battery Endurance
Base and massager contact charging
Environmental protection lithium battery long-term endurance unlimited freedom without restriction
Fully charged in about 2 hours
Can be used about 40 times
(10 minutes each time)
Triple security protection
Anti-electric shock, Anti-leakage, Anti-overcharge
5V safe voltage
A touch against electric shock
Watering no leakage
Full charged auto power off
Food Grade Silicone Head
Anti-pulls, oxidation resistance
(27000 times pulling tested)
Add 21 small massage heads
Fixed-point press
Ease the scalp problem
Wireless Portable
Small and light
Easy carry, enjoy scalp massage anytime anywhere
Comfort Massage and Whole Body Enjoyment
Quality Details
Easy to carry
Internal PCB panel
FR-4 double panel
ROHS, UL, certification
TPU button
Material has both flexibility and resilience
Ergonomic handle
Easy to hold
Wireless Portable
USB interface, Simple charging, and long battery life
ABS silicone kneading contact head
Removable, easy to clean.